Zelensky removes top officials in shake-up of Ukraine's government to fight corruption allegations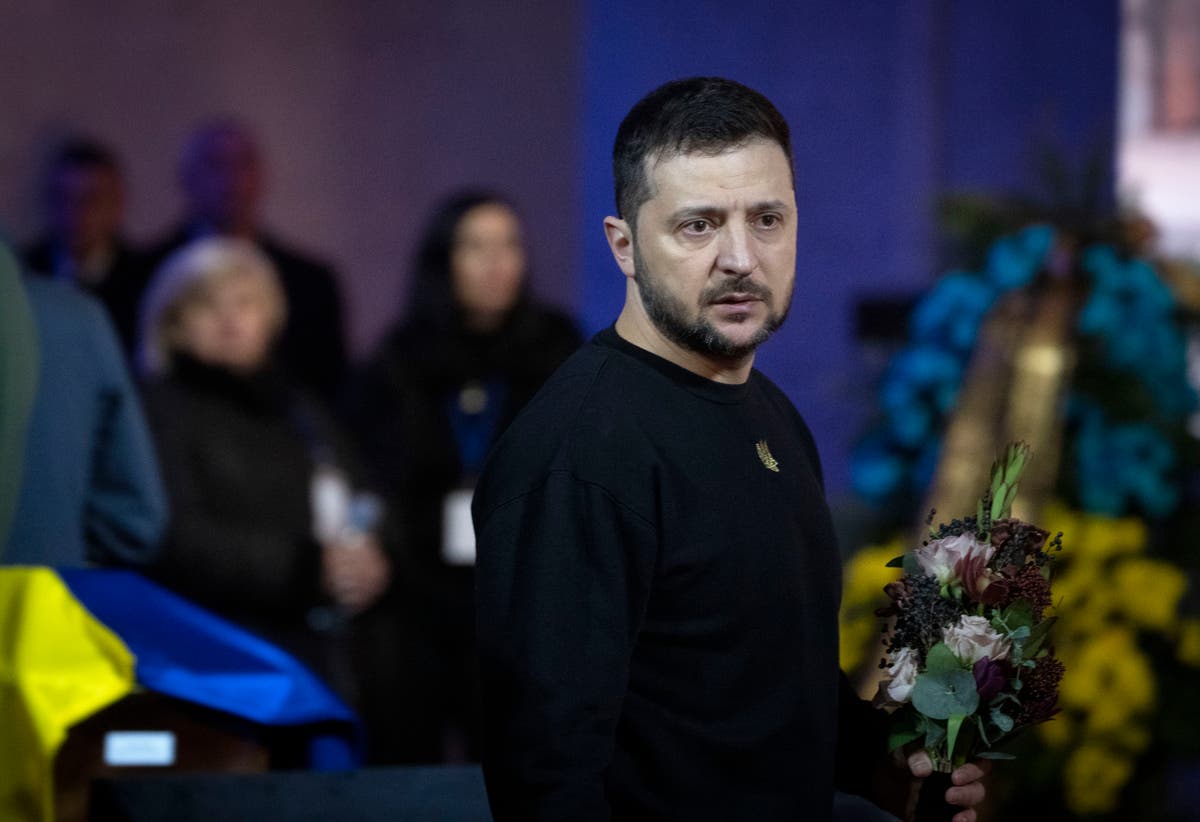 Ukraine's President Volodymyr Zelensky is in the middle of a shake of top officials in his government as he launches a renewed crackdown on corruption.
Mr Zelensky made fighting corruption a central pillar of his presidential election campaign, before Russia's invasion of Ukraine became the focus of his attention. As the war reaches its first anniversary, with Kyiv worried about fresh offensives from Moscow's forces as we move out of the harshest part of winter, the Ukrainian president appears to be taking the opportunity for a reset of officials.
Follow the latest in our live blog here
Deputy head of the president's office Kyrylo Tymoshenko, who has faced a scandal over use of expensive cars, resigned this morning. He had helped run the President Zelensky's 2019 election campaign and more recently had a role in overseeing regional policy. As did the deputy defence minister, Vyacheslav Shapovalov, who cited what he called baseless "media accusations" of corruption. A statement on the defence ministry's website said that Mr Shapovalov's resignation was "a worthy deed" that would help retain trust in the ministry.
A deputy to the prosecutor general, Oleksiy Symonenko, was also removed from his post as part of the shakeup. The statement announcing his removal gave no reason for the decision but said it had been "according to his own wish". Mr Symonenko had been under fire in Ukrainian media for taking a holiday in Spain.
On Sunday, anti-corruption police said they had detained the deputy infrastructure minister on suspicion of receiving a $400,000 kickback over the import of generators last September, an allegation the minister denies.
A Ukrainian newspaper also accused the Defence Ministry of overpaying suppliers for soldiers' food. The supplier has said it made a technical mistake and no money had changed hands.
Another presidential adviser, Mykhailo Podolyak, said the personnel shakeup showed that Mr Zelensky was reacting to a "key public demand" that justice should apply to everyone. "Zelenskiy's personnel decisions testify to the key priorities of the state… The president sees and hears society. And he directly responds to a key public demand of "justice for all," he said on Twitter.
David Arakhamia, head of Mr Zelensky's Servant of the People party, said officials should "focus on the war, help victims, cut bureaucracy and stop dubious business".
"We're definitely going to be jailing actively this spring. If the humane approach doesn't work, we'll do it in line with martial law," he said.
Mr Zelensky had given notice a late-night message on Monday. "There are already personnel decisions – some today, some tomorrow – regarding officials at various levels in ministries and other central government structures, as well as in the regions and in law enforcement," he said. In a possible nod to the situation involving he announced a ban on officials taking holidays abroad.
As the intense fighting between Ukrainian and Russian forces continues in the eastern regions in Ukraine, the frontlines in the war have been largely frozen in place for two months despite heavy losses on both sides. However, Moscow has claimed a number of incremental advances during the past two weeks. Mr Zelensky will no doubt wanting to keep the public with him. Particularly if he envisions Russia to up its offensives in the coming weeks and months.
Ukraine says Western tanks would give its troops the firepower to break Russian defensive lines. But Western allies have been unable to reach an agreement on arming Kyiv with tanks, wary of action that could trigger Russian escalation.
Germany, which must approve the re-export of its Leopard 2 from other nations, has said it is willing to act quickly if there is a consensus among allies – but has made no decision yet about sending the tanks itself holds.
The Polish prime minister, Mateusz Morawiecki, said Warsaw would seek permission to send Leopard tanks to Kyiv and was trying to get others on board. Germany has said it would not block requests from other nations.
Reuters and Associated Press contributed to this report