Washington Post condemns Pompeo for 'vile' Khashoggi 'falsehoods'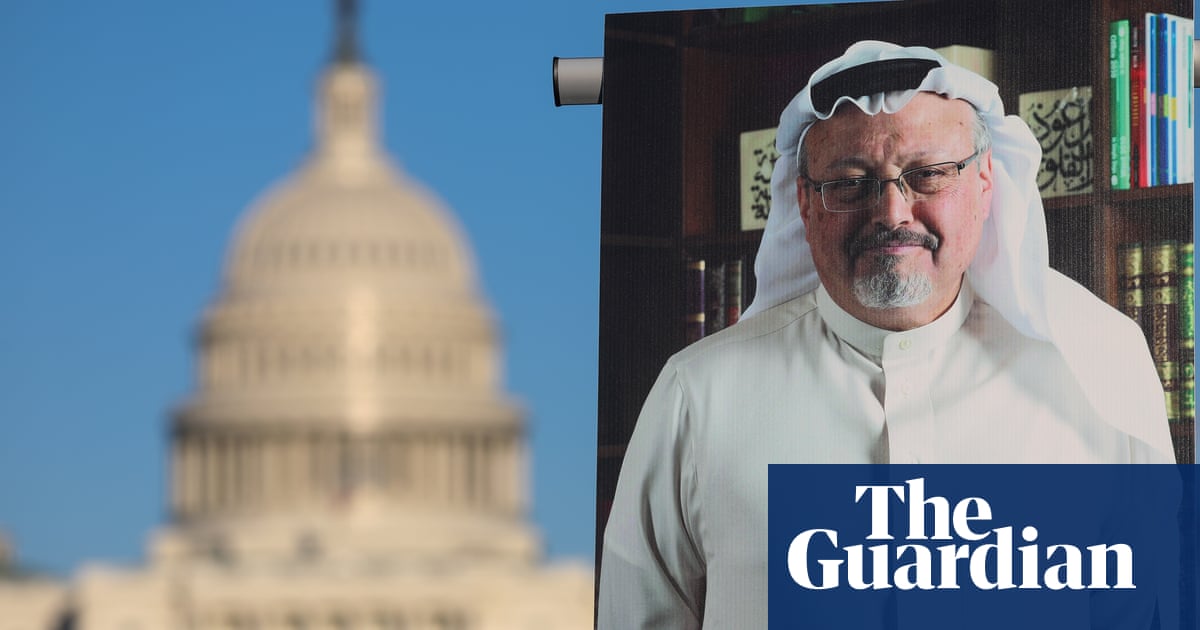 The publisher of the Washington Post, Fred Ryan, has blasted the former secretary of state Mike Pompeo for "outrageously misrepresenting" and "spreading vile falsehoods" about Jamal Khashoggi, the Post columnist murdered by the Saudi Arabian regime in 2018.
"It is shameful that Pompeo would spread vile falsehoods to dishonor a courageous man's life and service and his commitment to principles Americans hold dear as a ploy to sell books," Ryan said.
Pompeo's memoir of his time in Donald Trump's presidential administration, Never Give an Inch, was published on Tuesday.
One of a slew of books from likely contenders for the 2024 Republican presidential nomination – if in this case one who barely registers in polling – the book recounts Pompeo's time as CIA director and secretary of state under Trump.
The Guardian obtained and , a copy last week. In its own review, published on Tuesday, the Post called Pompeo's book "vicious … a master class in the performative anger poisoning American politics".
The reviewer, the Pulitzer prize-winning reporter Tim Weiner, added: "Hatred animates this book. It's got more venom than a quiver of cobras."
The murder of Khashoggi caused outrage around the world and stoked criticism of the Trump White House over its reluctance to criticise the Saudi regime, particularly the crown prince, Mohammed bin Salman, who grew close to Jared Kushner, Trump's son-in-law and senior adviser.
US intelligence believes the prince approved the killing of Khashoggi, whose remains have not been found.
On the page, Pompeo deplores Khashoggi's murder. But he also writes that Khashoggi was not a journalist but "an activist who had supported the losing team" and criticises what he calls "faux outrage" over a killing that "made the media madder than a vegan in a slaughterhouse".
On Monday, Khashoggi's widow, Hanan Elatr Khashoggi, told NBC News: "Whatever [Pompeo] mentions about my husband, he doesn't know my husband. He should be silent and shut up the lies about my husband. It is such bad information and the wrong information … This is not acceptable."
Elatr Khashoggi also said she wanted "to silence all of these people who publish books, disparage my husband and collect money from it".
On Tuesday, Ryan said it was "shocking and disappointing to see Mike Pompeo's book so outrageously misrepresent the life and work of Washington Post columnist Jamal Khashoggi.
"As the CIA – which Pompeo once directed – concluded, Jamal was brutally murdered on the orders of Saudi crown prince Mohammed bin Salman. His only offense was exposing corruption and oppression among those in power – work that good journalists around the world do every day."
Pompeo responded on Twitter, writing: "Americans are safer because we didn't label Saudi Arabia a pariah state. I never let the media bully me. Just because someone is a part-time stringer for the Washington Post doesn't make their life more important than our military serving in dangerous places protecting us all. I never forgot that."
Ryan said Khashoggi, who wrote for the Post while resident in the US, "dedicated himself to the values of free speech and a free press and held himself to the highest professional standards. For this devotion, he paid the ultimate price."