Uvalde victim's sister begs Texas lawmakers for gun reform: 'Do something'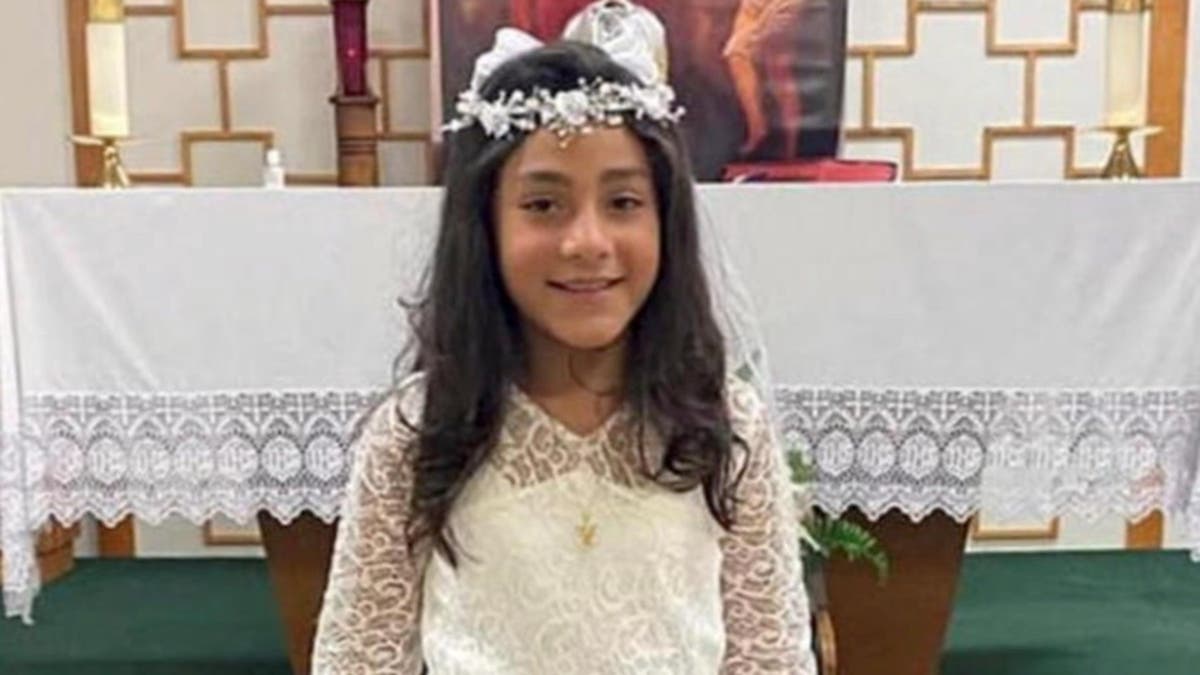 The teenage sister of a nine-year-old girl killed in the mass shooting in Uvalde has begged Texas lawmakers to pass gun control laws as she broke down in tears revealing she is now "terrified" to return to school for her final year.
Jazmin Cazares gave heartbreaking testimony before the Texas House Committee on Mass Violence and Public Safety on Thursday morning where she described losing both her younger sister Jacklyn and her cousin Annabell Rodriguez in the 24 May massacre at Robb Elementary School.
Wearing a shirt with her little sister's photo on, she said she was there to honour those killed in the attack and challenged lawmakers that "you can honour them too by passing gun safety legislation".
"I'm here begging for you guys to do something and to change something because the people who were supposed to keep her safe at school didn't," she said.
"They failed."
She called for Texas lawmakers to pass legislation on background checks and red flag laws in order to "protect innocent communities like mine from being endangered by people who are unstable and signal that they are threats".
"There should be absolutely no reason this murderer should have been able to have access to a firearm," she said.
"Days after turning 18, he bought an AR-15, hundreds of rounds of ammunition."
Through her grief, the teenager spoke of being "terrified for her life" as she decides whether to return to school to complete her studies in the next academic year.
"Am I going to survive?" she asked.
When asked about active shooter drills, Ms Cazares said that her school often went into lockdowns so "no one ever usually took it seriously – until that day".
"We were in lockdown so the only information we were getting was from the media," she said.
"It was terrifying… and having to go back to school next year… I don't know.
"It's a really big decision and going to school shouldn't have to be a big decision but it is. I'm terrified for my life to go back.
"I have senior year and that's it. Am I going to survive it?" she asked.
The meeting of the joint committee of the Texas Legislature was called to discuss legislative solutions in the aftermath of last month's mass shooting where 21 victims were shot dead.
Jacklyn – nicknamed "Jackie" – was one of 19 young students aged between nine and 11 years old who were killed alongside two teachers in the worst school shooting in America since Sandy Hook in 2012.
Ms Cazares choked up with emotion as she paid tribute to her little sister as "an exact copy of me" who "loved singing and dancing and acting".
Instead of being home together enjoying the summer break as they should be, she had to be there today to call on lawmakers to prevent other families from being torn apart by gun violence.
"This morning at around 5.30am I sat on my sister's bed and I cried. I cried and I cried," she said.
"Maybe a minute later I wiped my tears and got in the car and travelled 4 hours to get here.
"I shouldn't have to be here… I'm not supposed to be here right now. I'm supposed to be at home watching a movie with my sister. It's summer," she said.
Jackie had wanted to go to Paris for her graduation, Ms Cazares told the lawmakers. She now plans to go in her sister's honour when she graduates from school next year.
In the aftermath of the massacre, their father Javier Cazares spoke out about how he rushed to the school when he heard reports of a shooting.
Mr Cazares begged police officers to storm the school and, as he grew frustrated with the agonising wait, was prevented from taking matters into his own hands and saving his daughter.
"A lot of us were arguing with the police, 'You all need to go in there. You all need to do your jobs,'" he told The Washington Post at the time.
"We were ready to go to work and rush in."
The law enforcement response to the massacre is now at the centre of mutliple local, state and federal investigations as it has emerged that officers waited a staggering 77 minutes from the time the shooting started to the time they entered the classroom and shot gunman Salvador Ramos dead.
This delayed response is believed to have cost lives with one teacher dying in an ambulance on her way to hospital and three children succumbing to their injuries after arriving at hospital.
On Tuesday, Texas Department of Public Safety Director (TDPS) Steve McCraw testified at a Texas Senate hearing that there were enough armed officers on the scene to stop the gunman just three minutes after the shooting began.
But, instead, law enforcement waited another one hour, 14 minutes and eight seconds as on-site commander Uvalde School District Police Chief Pete Arredondo failed to send officers into the classroom.
"Three minutes after the subject entered the west hallway, there was sufficient number of armed officers wearing body armour, to isolate distract and neutralise the subject," he said.
"The only thing stopping a hallway of dedicated officers from entering room 111 and 112 was the on-scene commander, who decided to place the lives of officers before the lives of children.
"The officers had weapons. The children had none. The officers had body armour. The children had none.
"The officers had training. The subject had none."
Mr McCraw, who is leading a state investigation into the law enforcement response, branded the response an "abject failure" as he said that Chief Arredondo waited for radios, firearms and keys rather than send officers into the two adjoining classrooms.
Chief Arredondo has previously said much of the delay was due to him waiting for keys to the classroom door.
This was disputed by Mr McCraw who said that the investigation so far indicates that the door was unlocked but that surveillance footage reveals not a single officer tried the door handle to see if it was open.
Even if the door was locked, law enforcement had access to a crowbar tool within minutes that could have been used to force open the door, he testified.
On Wednesday night, Chief Arredondo was placed on administrative leave as the probes continue.