Trump complains Georgia voting law doesn't do enough to restrict access to ballots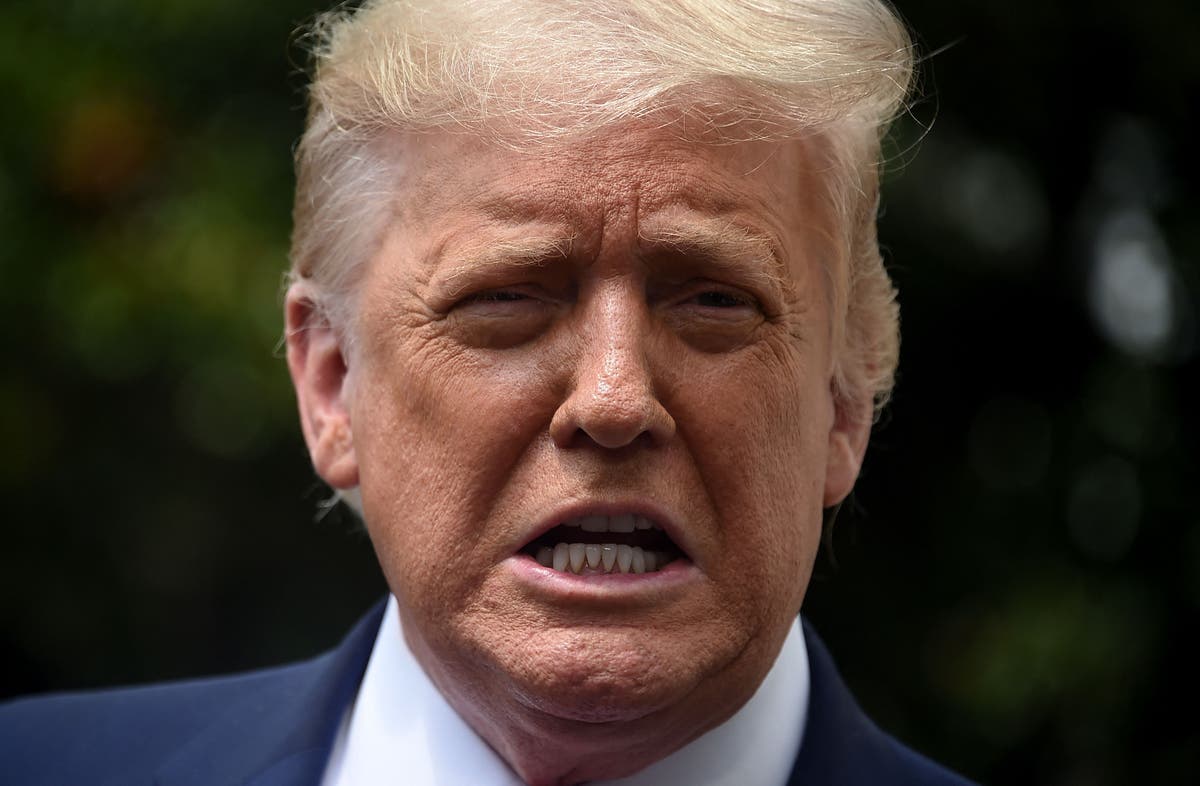 Donald Trump has complained about Georgia's recently passed election reform law, calling it "far too weak and soft to ensure real ballot integrity" and criticising the governor for not getting rid of weekend voting.
In a statement, the former US president said: "Election day is supposed to be election day, not election week or election month. Far too many days are given to vote. Too much 'mischief' can happen during this very long period. You saw that in the 2020 presidential election."
Georgia's new election law was signed by Republican governor Brian Kemp last month amid an outcry. Defending the bill, Mr Kemp had said that "a lot of this bill is dealing with the mechanics of the election. It has nothing to do with potential fraud or not."
The law requires a photo ID in order to cast an absentee vote by mail, criminalises offering food or drink to voters waiting in lines and imposes new limitations on ballot drop boxes.
It is one of a wave of Republican-backed election bills introduced in states around the country after Mr Trump falsely claimed that his defeat in the presidential election was the result of widespread fraud. The changes in Georgia come after record-breaking turnout that led to Joe Biden's win in the November election and Democratic victories in two US Senate runoffs.
Read more:
Mr Trump also referred to Georgia election worker Ruby Freeman in his statement. He had alleged that she produced thousands of fake ballots from a suitcase that helped swing the vote to Mr Biden. State election officials have already debunked the theory and called the claims "ridiculous", according to NBC News.
The former president demanded in his statement on Tuesday that Mr Kemp and Georgia's secretary of state "should have eliminated no-excuse widespread mass mail-in voting, gotten rid of the dangerous and unsecure drop boxes and should have kept and expanded signature verifications to do matches against the historical voter file, among other things."
Earlier, Georgia law required voters to simply sign their absentee ballot applications, but now they will have to provide a driver's licence or an equivalent state-issued identification.
Mr Trump also said that the governor "caved to the radical left-wing woke mob who threatened to call him racist if he got rid of weekend voting."
Civil rights groups claim Black voters — who make up 30 per cent of the state's electorate — would be disproportionately affected by the proposed changes. Black voters are less likely than other voters to have the identification now required, according to CNN.
The law does not contain some of the most contentious restrictions proposed earlier, including limits on early voting on Sundays when Black churchgoers vote in "souls to the polls" events. It now mandates two Saturdays of early voting ahead of general elections and leaves two Sundays as optional.