Tiger Woods: Police deny 'preferential treatment' but reveal they didn't check his phone or toxicity at scene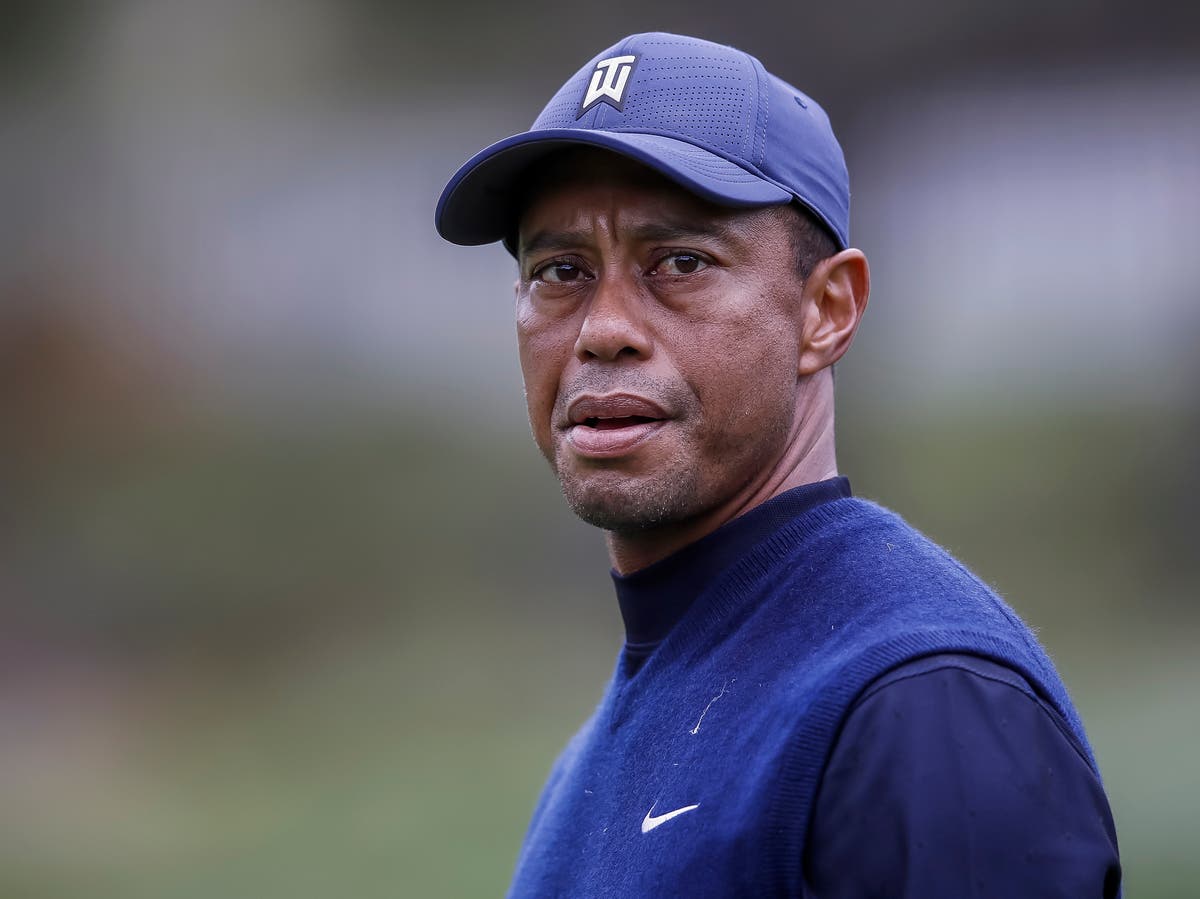 Police have denied that they gave preferential treatment to Tiger Woods after his car crash in February, but also revealed that they didn't check his phone or toxicity levels at the scene of the crash.
Sheriff Alex Villanueva pushed back on the notion that Mr Woods was treated differently because of his stature as a famous golf player, telling reporters during a press conference: "The decision not to issue a citation would be the same thing for anyone in this room.
"The inference that he's somehow special is false."
Mr Woods was not charged with reckless driving despite the vehicle's data recorder showing him driving between 84 and 87 mph in an area with a 45 mph speed limit.
Sheriff Villanueva made clear that Mr Woods showed no signs of having consumed alcohol or of having used drugs.
Police didn't check his phone to see if he had been texting or been otherwise distracted while driving because they said they didn't think they had any reason to do so.
The department didn't seek a warrant for a toxicology report from the hospital where Mr Woods was being treated.
Read more:
Police said that a data recorder in the vehicle showed no evidence of breaking until the car hit the median. The gas was pressed down to 99 per cent capacity, leading officers to believe that Mr Woods inadvertently hit the gas in a moment of panic as he was careening off the roadway.
Mr Woods hit a median in the roadway and his borrowed SUV skidded across the road, hit a tree at 75 mph before becoming airborne and eventually landing in a ditch.
The crash shattered Mr Woods' right leg and removed any chance that the 45-year-old could possibly return after also having recently gone through back surgery. Any possibility that he would play in the Masters tournament that starts on Thursday is now seemingly gone.
The crash took place the day after he hosted the Genesis Open in LA. He didn't play himself in the tournament.
He was on his way to a film shoot at Rolling Hills Country Club south of LA. The day after the crash, Sheriff Villanueva called it "purely an accident," The Washington Post reported.
The handling of the crash by the Los Angeles Sheriff's Department has raised some questions. The sheriff rejected the idea that the crash could have been caused by drugs or alcohol. But the first responder at the scene of the crash didn't give Mr Woods a field sobriety test.
Mr Woods was arrested and charged with DUI in Florida in 2017. The toxicology report showed that he had five drugs in his system, including an opioid and a type of sleeping aid. Sheriff Villanueva said that this history would not sufficiently build up to probable cause to access a toxicology report after the February crash.
Sheriff Villanueva said last week that investigators had been able to determine what caused the crash, but privacy concerns hindered law enforcement from releasing all the details. He had previously said that all the information would be provided when it was available. He pointed towards a California regulation that said it was necessary to acquire Mr Woods' consent to publicize some information concerning the crash.
Sheriff Villanueva added last week that they had "reached out to Tiger Woods and his personnel. [There are] some privacy issues on releasing information on the investigation, so we're going to ask them if they waive the privacy and then we will be able to do a full release on all the information regarding the accident."
In a statement on Wednesday afternoon, Mr Woods said: "In the last few days, I received word from the Los Angeles County Sheriff's Department that their investigation regarding my traffic accident back on February 23rd in Los Angeles has been completed and closed."
He thanked the paramedics and first responders "for helping me so expertly at the scene and getting me safely to the hospital".
He concluded: "I will continue to focus on my recovery and family, and thank everyone for the overwhelming support and encouragement I've received throughout this very difficult time."