Texas shooting – live: Salvador Ramos 'loved hurting animals', Uvalde classmate says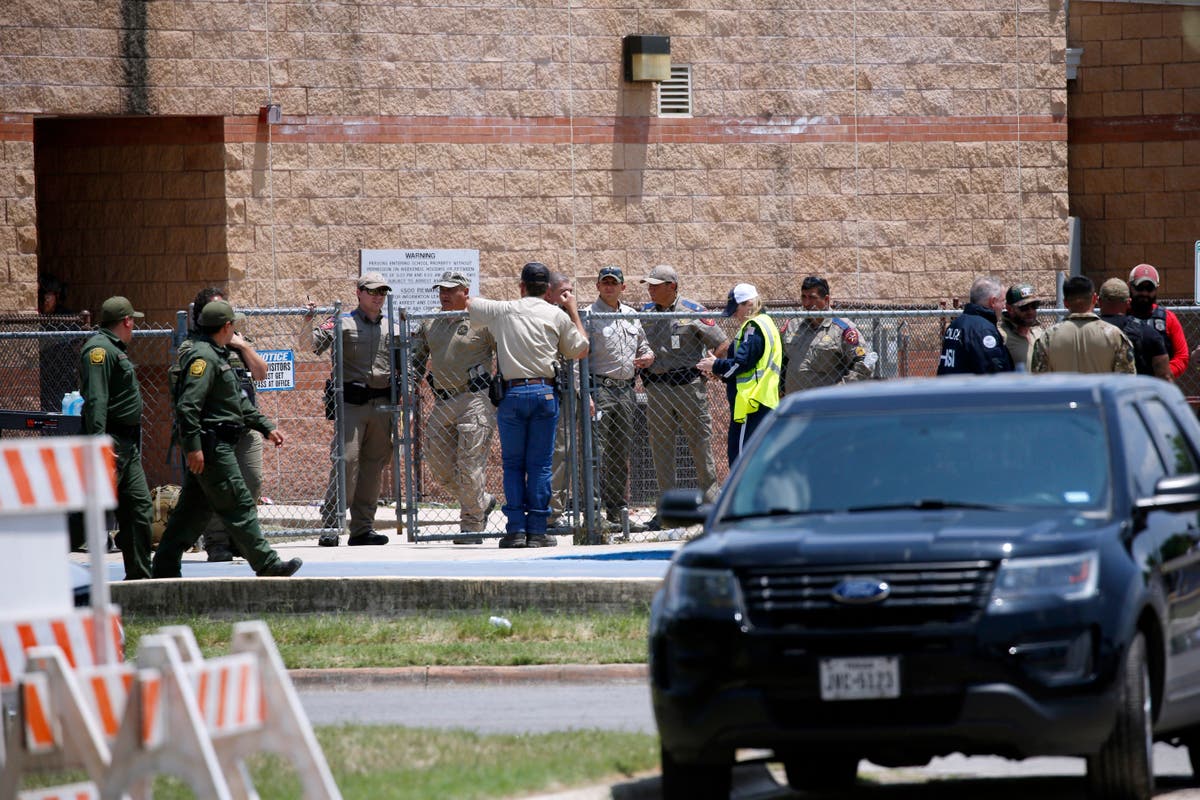 Timeline of events on the day of shooting
The Texas authorities have been accused of providing contradictory information about what happened on 24 May when 18-year-old Salvador Ramos killed 19 children and two teachers at Robb Elementary School in Uvalde.
While the investigation of the massacre is ongoing, with the Department of Justice probing the police response, here is the sequence of events that have been disclosed to the public so far.
Around 11am: Ramos shoots his grandmother in the face
11.27am: Video shows a teacher, whom authorities haven't publicly identified, propping open an exterior door of the school
11.28am: The teacher exits to retrieve a phone and then returns through the exit door, which remains propped open
11.28am: Ramos crashes the pickup into a drainage ditch behind the school
11.30am: 911 receives a call saying there was a crash and a man with a gun at the school
11.31am: Ramos begins shooting at the school from the school parking lot
11.32am: He fires multiple shots at the school and then makes his way toward the open door.
11.33am: Ramos enters the school and begins shooting into two adjoining classrooms, 111 and 11
11.35am: Three city police officers enter the school through the same door that Ramos used and are later followed by four other officers
11.37am: Gunfire continues, with 16 rounds being shot in total
11.51am: A police sergeant and other law enforcement begin to arrive
12.03pm: A female (age unknown) calls 911 and whispers that she's in classroom 11
12.03pm: Officers continue to enter the school, with as many as 19 officers in the hallway near the room where Ramos is holed up
12.06pm: Anne Marie Espinoza, a spokeswoman for the Uvalde Consolidated Independent School District, posts on the district's Facebook page: "All campuses are under a Lockdown Status."
12.10pm: The female (age unknown) who called 911 at 12.03pm calls 911 again and says there are multiple dead
12.10pm: The first group of deputy US marshals from Del Rio arrive from nearly 70 miles (11km) away to assist the various other law enforcement officers already on scene, according to the Marshals Service.
12.15pm: US Border Patrol tactical team members arrive with shields
12.19pm: Another girl in room 111 calls 911 and ends the call when a fellow student tells her to hang up
12.21 pm: Ramos fires his gun again and officers believe he's at one of the door of one of the adjoining classrooms
12.21pm: Three shots can be heard during a 911 call, McCraw said.
12.36pm: A child calls 911 for 21 seconds.
12.43pm: The girl urges the 911 dispatcher to "please send the police now"
12.46pm: The girl says she can "hear the police next door"
12.47pm: She again asks 911 to "please send the police now"
12.50pm: Officers open the doors with keys from a school employee, enter the classroom and kill Ramos
12.51pm: Officers can be heard moving children out of the room
12.58pm: Law enforcement radio chatter says Ramos has been killed and the siege is over
Timeline by Associated Press