Half Moon Bay shooting – latest: Video shows California farm worker Chunli Zhao's arrest for killing 7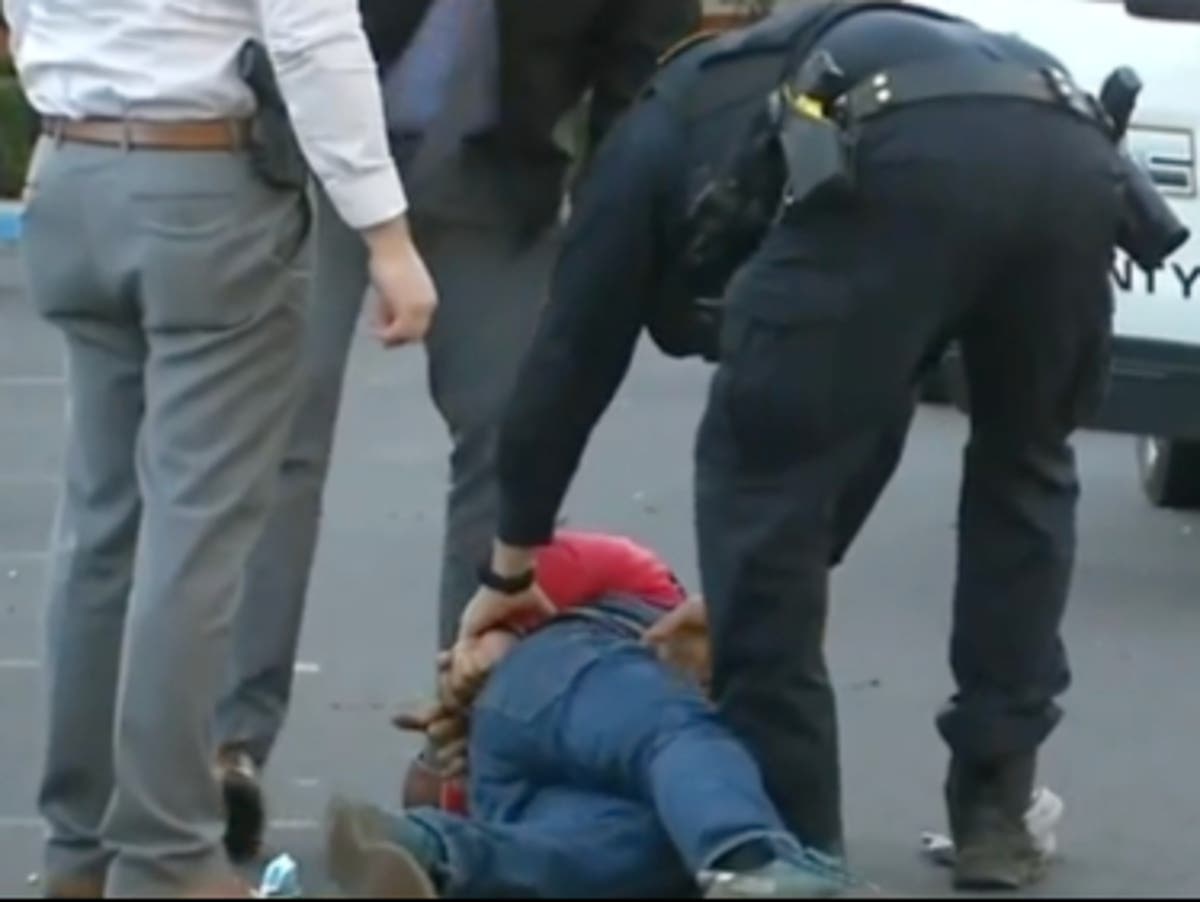 Witness video of Half Moon Bay shooting suspect being arrested
A mushroom farm worker has been arrested for killing seven coworkers in a mass shooting in Half Moon Bay – marking the second of three California mass shootings in three days.
Chunli Zhao, 67, worked for decades at one of the two agricultural business sites where the shooting unfolded on Monday afternoon.
He was arrested soon after when he was spotted sitting in his car outside a local sheriff's office. Video showed officers wrestling him to the ground and placing him in handcuffs.
The alleged gunman shot dead four victims and wounded a fifth at the Mountain Mushroom Farm, and fatally shot another three victims at the Rice Trucking-Soil Farm located around two miles away, according to authorities. The eighth victim was airlifted to hospital.
The horror attack is believed to have been witnessed by many children, as many farm workers live on site with their families.
Investigators are still working to determine which shooting took place first, as well as the motives for the killings.
1674569153
Arrest captured on video
San Mateo County Sheriff Christina Corpus said in a press conference that Chunli Zhao, who had worked at the mushroom farm for decades, was found around two hours after the shootings sitting in his car in the parking lot of a sheriff's substation.
Dramatic footage shows the suspect being wrestled to the ground as armed officers took him into custody.
The video, captured by Half Moon Bay resident Kati McHugh, shows three officers approaching a parked car with drawn weapons. The suspect then gets out of the car as officers pull him to the ground, handcuff and lead him away.
A semi-automatic handgun believed to have been used in the mass shooting was found inside his car, officials said.
The sheriff said that they are working on the belief that the suspect had gone to the police station to turn himself in, though this is yet to be confirmed. Mr Zhao is said to be fully cooperating with law enforcement.
Witness video of Half Moon Bay shooting suspect being arrested
Megan Sheets24 January 2023 14:05
1674568253
Who is suspect Chunli Zhao?
Little is yet known about suspected gunman Chunli Zhao.
The 67-year-old had worked for decades as a farmer at one of the two sites where the shooting unfolded.
San Mateo County Board of Supervisors President Dave Pine told local outlet KRON4 that Mr Zhao was a "disgruntled worker" at the farm but gave no further details.
The sheriff described the shooting as "horrific", saying: "It's a tragedy that we hear about far too often but today has hit home here in San Mateo County."
The Independent's Rachel Sharp reports:
Megan Sheets24 January 2023 13:50
1674567199
What we know about the Half Moon Bay shootings
California has now been left reeling from three mass shootings in as many days, after a "disgruntled" mushroom farm worker allegedly shot dead seven coworkers in a massacre in Half Moon Bay.
Chunli Zhao, who worked for decades at one of the two sites where the shooting unfolded, is accused of carrying out two separate shootings at two different agricultural businesses in the San Francisco area.
The suspect, 67, was arrested on Monday afternoon after he was spotted sitting in his car outside a local sheriff's office.
Investigators are still trying to determine a motive for the horror attack which has reignited calls for a crackdown on gun laws in the US where mass shootings and gun violence are increasingly commonplace.
The Independent's Rachel Sharp explains what we know so far about the shooting:
Megan Sheets24 January 2023 13:33