California rocked by third mass shooting in three days as one killed and seven injured in Oakland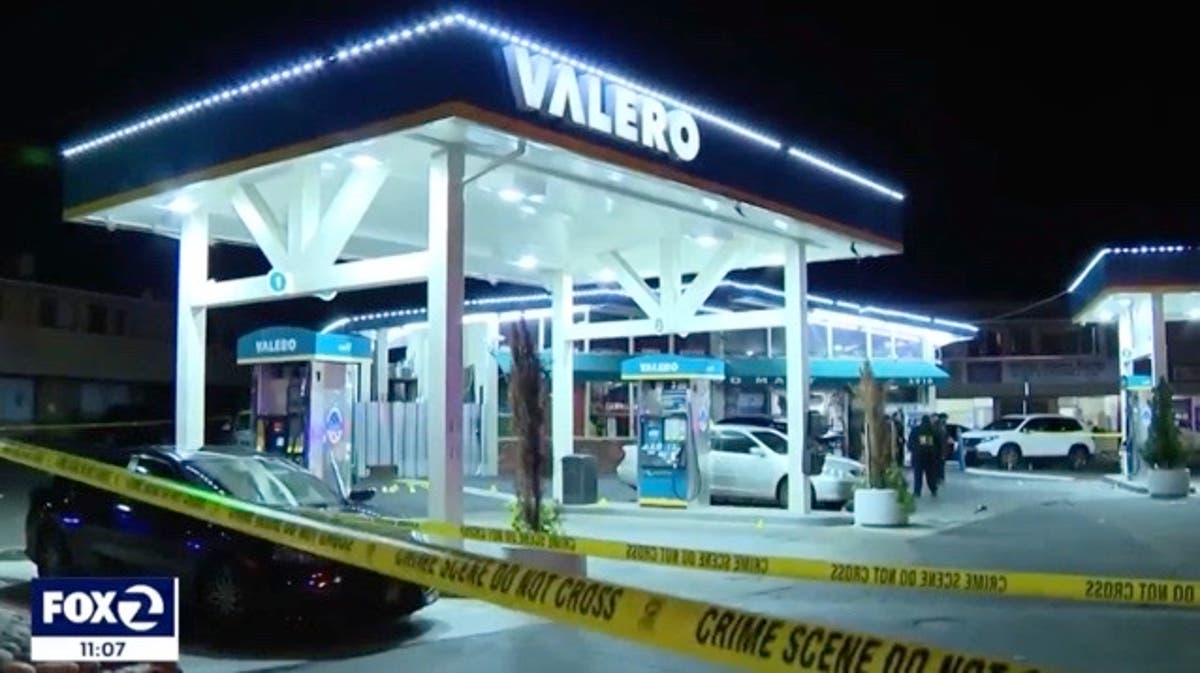 California has been rocked by its third mass shooting in as many days as a teenager was killed and seven other victims injured in a shooting rampage at a gas station in Oakland.
The shooting unfolded just after 6pm on Monday evening at a Valera gas station along Seminary Avenue and Macarthur Blvd, according to the Oakland Police Department (OPD).
Law enforcement responded to the scene after being alerted to a shooting through ShotSpotter activity.
When officers arrived on the scene, there were no victims in sight – but shell casings left behind indicated what had unfolded.
Multiple victims suffering gunshot wounds had already self-transported to several area hospitals, OPD said.
"Upon arrival, [officers] located shooting scene, they located casings, but no victims," said OPD's Kim Armstead in a press conference on Monday night.
"Shortly thereafter, our communications division received notification of multiple gunshot wound victims, who self transported to local hospitals."
At least eight people were shot in the incident, with one victim – identified by his family as 18-year-old Mario Navarro – killed.
The other seven were in stable condition and are expected to survive.
Police have not confirmed what may have led up to the shooting but said that the investigation so far shows that several people may have exchanged gunfire.
Witnesses told local outlet KTVU that the shooting broke out during the filming of a music video.
Devastated family members of the teenage victim were seen breaking down outside Highland Hospital after learning that Navarro – who graduated from high school this year – had died from his injuries.
"He was really sweet, he was a really, like, he kinda liked music, but he was not like a really bad person. He was good," said Navarro's cousin Olga Navarro.
Another woman said that her sister was among the shooting victims and called on the community to help solve the crime.
"It's really disheartening and difficult, you know, to deal with, but, you know, again, we're relying on community support to help solve this incident," she said.
Oakland Police have not said if any arrests have been made or who they may be seeking as a suspect.
Investigators were spotted gathering evidence from two cars thought to have driven victims to hospital, KTVU reported.
The shooting in Oakland marks the third mass shooting in California in just three days after a gunman shot dead 11 victims at a ballroom dance studio in Monterey Park and a farm worker allegedly killed seven coworkers at Half Moon Bay in San Francisco.
On Saturday night, thousands in the Asian-American community had gathered in Monterey Park to celebrate the Chinese Lunar New Year.
Hours later, 72-year-old gunman Huu Can Tran entered the Star Ballroom Dance Studio in Monterey Park and opened fire.
Eleven people were killed in the attack, with the death toll rising from 10 on Monday when another victim died from their injuries.
Tran then drove to a second dance studio – Lai Lai Ballroom in nearby Alhambra – where a hero worker managed to wrestle a gun away from him.
The gunman then fled the scene and no one was injured in the second incident.
A huge manhunt was launched to track down the gunman, culminating around 12 hours later with a police standoff in Torrance, about 30 miles from Monterey Park.
Tran died from a self-inflicted gunshot wound in his white van.
The motive for that attack remains unclear but it has emerged that Tran was paranoid that his family had tried to poison him decades ago and that had gone to police with the allegations just weeks before he going on the shooting rampage.
Hemet Police revealed on Monday that Tran, 72, had visited the police department twice in early January – once on 7 January and then again on 9 January – "alleging past fraud, theft, and poisoning allegations involving his family in the Los Angeles area 10 to 20 years ago".
The gunman told police he would return with documentation to prove his allegations but he never returned.
Tran met his former wife at the Star Ballroom Dance Studio. The pair divorced in 2006.
Less than 48 hours on from the massacre, another mass shooting unfolded on the outskirts of Half Moon Bay in San Francisco on Monday.
Seven people were killed across two locations at agricultural businesses – a mushroom farm and a trucking facility – before a suspect was taken into custody.
The gunman shot dead four victims and wounded a fifth at the farm, before shooting another three victims dead at the second business located a few miles away, according to authorities.
Chunli Zhao, a 67-year-old worker at the mushroom farm, was found sitting in his car in the parking lot of a sheriff's substation and was taken into custody, San Mateo County Sheriff Christina Corpus said.
The motive for the attack remains unclear but Mr Zhao and the victims all worked at the businesses.
California Governor Gavin Newsom was in Monterey Park meeting with victims of Saturday's mass shooting when he learned about the shooting at Half Moon Bay.
"At the hospital meeting with victims of a mass shooting when I get pulled away to be briefed about another shooting. This time in Half Moon Bay. Tragedy upon tragedy," he tweeted.