Bluffing or for real? Russia's military build-up on Ukrainian border raises questions on intent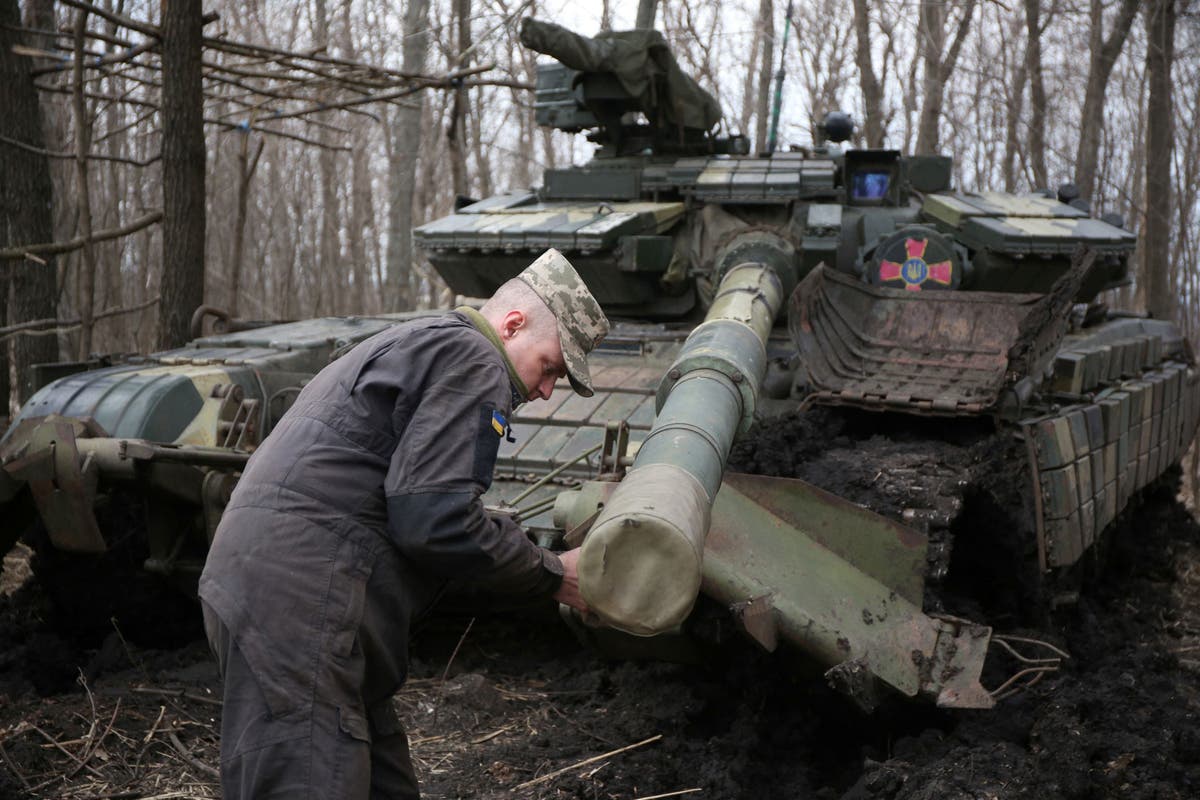 The seven-year conflict between Russia and Ukraine appears to be returning to the boil as peace talks break down, heavy weaponry is built up and explosions are documented all along the 250-mile contact line.
The surge has already taken dozens of lives. On the Ukrainian side, at least 27, mostly young soldiers have been killed this year. The numbers of dead on the Russian-backed side are somewhat hazier but the confirmed death of a five-year-old boy in a village near the frontline has understandably raised stakes and emotions.
That tragedy has been a major focus for Russian propaganda foot soldiers, with state media channelling local claims without evidence that a Ukrainian drone was to blame. The same coverage warned Kiev was preparing for a "victorious" offensive to "punish" the long-suffering Donbass region, with President Volodymyr Zelensky supposedly responding to "domestic political chaos" and "low poll ratings".
Things look different from a Ukrainian point of view. Mr Zelensky himself has accused Russia of "flexing its muscles", amassing a military force on Ukraine's borders and stepping up support of anti-Kiev forces in the Donbass region. More excitable local commentators talk of Moscow hatching invasion plans – perhaps under the aegis of "rescuing" Donbass residents, thousands of whom have been issued Russian passports in recent years.
Judging by the evidence, Russia has not yet mobilised the kind of forces needed for the worse case – invasion past heavily fortified positions. On another hand, it has certainly amassed the means to do serious damage.
Read more:
Investigative bloggers known as the Conflict Intelligence Team have tracked much of the military build-up using verified social media footage.
Ruslan Leviev, the group's head, says the signs on the ground are troubling enough. It is "undoubtedly" the most substantial military presence on the Ukrainian border since the early battles of 2014-2015, he says – and it supports the US military command's claims of at least 4,000 new soldiers in the region.
Mr Leviev's team began documenting a military build-up on Russia's western border in early February, with military columns and trains travelling to eastern Ukraine and Crimea. Verified footage shows tanks, artillery units, rocket launchers and other heavy machinery making their way from divisions as far away as Siberia.
The researchers have also found evidence of a temporary military field camp near to the border in Voronezh region, with satellite imaging confirming tents, a field hospital, and kitchens. "We are sure that there is more than one such camp," Mr Leviev says.
What is less clear is whether the Kremlin has a clear military aim in sight – or whether it is using the show of force as a lever to advance diplomatic efforts elsewhere. The escalation did not happen in a political vacuum, after all. It began at the time of a hostile US president apparently ready to impose damaging new sanctions and awful, deteriorating relations with Ukraine.
Russia has made little secret of its irritation with Kiev's stubbornness on peace talks. Moscow insists on the full implementation of the 2015 Minsk agreement, in which the war-torn territories are legalised within the Ukrainian political system following a ceasefire, withdrawal of heavy weapons, amnesty and the return of border control to Ukraine.
But the agreement is highly controversial from the Ukrainian standpoint, given that the full implementation would mean Russia-controlled territories handed a blocking influence on domestic politics. Kiev has been pushing for their amendment.
In February, the already terrible Russia-Ukraine relations took another battering when Volodymyr Zelensky went after Viktor Medvedchuk, Vladimir Putin's closest friend in Ukraine. Mr Medvedchuk's TV networks, which had been subjecting Mr Zelensky and the Ukrainian army to criticism, were shut down unceremoniously and largely out of the blue. To add insult to injury, Mr Zelensky then stepped up public calls for Nato membership.
Neither Mr Medvedchuk nor Vladimir Putin expected such a radical turn, says Ukrainian political expert Vladimir Fesenko. "Zelensky's motivation was simple enough: war is war."
Vladimir Frolov, a former Russian diplomat, said that Moscow's military posturing probably drew directly from such tensions. It looked like a "Minsk enforcement operation," he says; a hardline trade looking to coerce Kiev and western partners to implement Minsk on Russian terms.
The one unknown quantity remains Mr Putin, the expert cautions: "The force is large and heavy enough to do some ugly stuff if necessary."
A flurry of high-level exchanges between US officials and the Zelensky administration suggests neither is taking the threat lightly. Mr Zelensky was in the region for an unscheduled visit on Thursday.
For the time being, however, most in Kiev appear inclined to file the developments as psychological escalation and bluff.
"We understand it's about trading by blackmail, one side scaring the other," says Mr Fesenko.
"Of course, there's always a risk with such games, as the start of World War One showed."