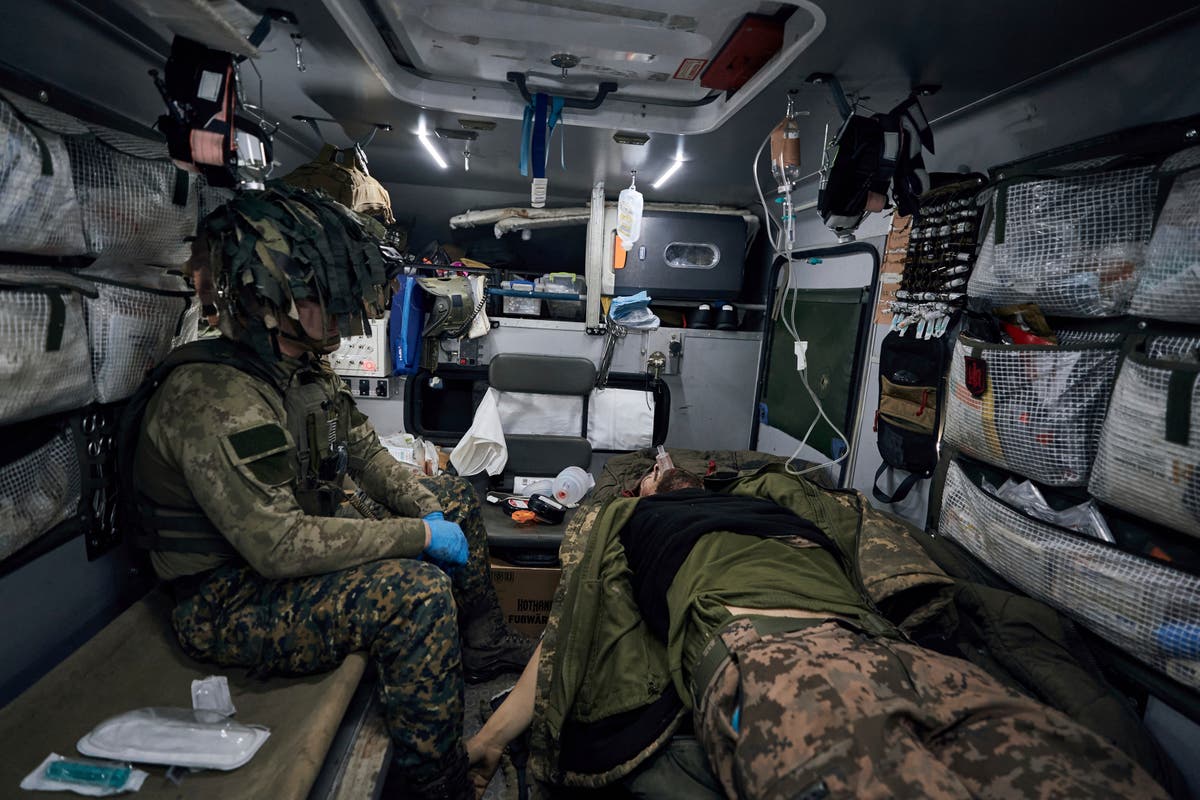 Here are the AP's latest coverage plans, top stories and promotable content. All times EST. For up-to-the minute information on AP's coverage, visit Coverage Plan.
—————————-
TOP STORIES
——————————
RUSSIA-UKRAINE-WAR — A series of explosions has rocked Kyiv and minutes later air raid sirens started to wail as an apparent missile attack on the Ukrainian capital was underway. SENT: 220 words. UPCOMING: Developing.
BIDEN-GEORGIA — During the 2022 midterm campaign, President Joe Biden steered clear of Georgia as Sen. Raphael Warnock sought to distance himself. Now the reelected senator is welcoming the president back to Georgia and to America's most famous Black church. The president is set to speak Sunday at Ebenezer Baptist Church as part of the Martin Luther King Jr. holiday weekend. By Bill Barrow. SENT: 1,050 words, photo.
IRAN — Iran has said it had executed a dual Iranian-British national who once held a high-ranking position in the country's defense ministry despite international warnings to halt his death sentence, further escalating tensions with the West amid the nationwide protests now shaking the Islamic Republic. By Jon Gambrell. SENT: 840 words, photo.
SEVERE-WEATHER-SELMA — As a deadly storm system that spawned tornadoes across parts of the U.S. South, Zakiya Sankara-Jabar's cellphone buzzed relentlessly. Text messages and calls from loved ones in Alabama, many of them hysterical, provided her with devastating updates. By Aaron Morrison. SENT: 1,150 words, photos.
UNITED STATES-PACIFIC ISLANDS — The Biden administration is nearing deals with two Pacific Island nations to extend their special ties with the United States, as U.S.-China rivalry for influence in the region heats up. The U.S. has signed two memorandums of understanding with the Marshall Islands and Palau. By Diplomatic Writer Matthew Lee. SENT: 830 words, photo.
MALI-RUSSIAN-MERCENARIES — Western officials say violence against civilians in Mali has risen in the year since hundreds of Russian mercenaries have started working alongside the West African country's armed forces to stem a decade-long insurgency by Islamic extremists. Diplomats, analysts and human rights groups say extremists linked to al-Qaida and the Islamic State group have only gotten stronger and there's concern the Russian presence will further destabilize the already troubled region. By Sam Mednick. SENT: 1,260 words, photos. This story moved as the Sunday Spotlight.
——————————————
RUSSIA-UKRAINE-WAR
——————————————
RUSSIA-UKRAINE-UN-INTERVIEW — Ukraine's President Volodymyr Zelenskyy wants to visit the United Nations to address a high-level meeting of the 193-member General Assembly on the eve of the first anniversary of Russia's Feb. 24 invasion of his country if the security situation permits, a senior Foreign Ministry official says. SENT: 730 words, photos.
————————-
TRENDING
————————
MEGA-MILLIONS-JACKPOT — The numbers for an estimated $1.35 billion Mega Millions jackpot were drawn and now all hopeful players can do is wait until word of a possible winner. SENT: 180 words, photos.
HONG-KONG-OBIT-OLDEST-DJ — Ray Cordeiro, who interviewed music acts including the Beatles during a six-decade career on Hong Kong radio that earned him the title of the world's longest-working disc jockey, has died, his former employer announced. He was 98. SENT: 240 words, photos.
HEAT-ARENA — Out with the old: The home of the Miami Heat has yet another name: Miami-Dade Arena. It's a temporary, since a bankruptcy court terminated the county's naming rights deal with collapsed cryptocurrency exchange FTX. SENT: 460 words, photos.
——————————————————
WASHINGTON/POLITICS
——————————————————
SUPREME-COURT-NEW-CASES — The Supreme Court has agreed to consider what employers must do to accommodate religious employees, among eight new cases it added. SENT: 590 words, photos.
————————-
NATIONAL
————————
ILLINOIS-SEMIAUTOMATIC-WEAPONS-BAN — To the scores of sheriffs in Illinois who reportedly have vowed not to enforce the ban on semiautomatic weapons that took effect this week, Gov. J.B. Pritzker has a succinct answer: Yes, you will. SENT: 560 words, photos.
COLLEGE STUDENTS-EXPLOITED — Prosecutors seek a life prison term for an ex-convict who extorted and forced into labor or prostitution some women he met at his daughter's on-campus housing at Sarah Lawrence College, while his lawyers request the mandatory minimum 15 years behind bars for his crimes, according to papers filed prior to sentencing next week. SENT: 530 words, photos.
CALIFORNIA_DEATH-ROW-INMATE-DNA — An independent review of California death row inmate Kevin Cooper's conviction found that evidence of his guilt was "extensive and conclusive" in the 1983 stabbing deaths of four people, including two children, at a suburban Los Angeles home. SENT: 440 words, photos.
MISSING GIRL-OKLAHOMA — A man jailed in Arizona is facing a murder charge in connection with the disappearance of a 4-year-old Oklahoma girl he had been caring for, authorities say, adding that the search for the child was ongoing. SENT: 340 words, photo.
CALIFORNIA STORMS — With rain-soaked California expected to see more stormy weather over the weekend and into next week, Gov. Gavin Newsom, and other state and federal officials pleaded with residents to stay alert to possibly more flooding and damage. SENT: 630 words, photos.
—————————————
INTERNATIONAL
——————————————
BRAZIL-CAPITAL-UPRISING-EXTRADITION — Brazil's Supreme Court has agreed to investigate whether former president Jair Bolsonaro incited the far-right mob that ransacked the country's Congress, top court and presidential offices, a swift escalation in the probe that shows the ex-leader could face legal consequences for an extremist movement he helped build. SENT: 790 words, photos.
ISRAEL-PALESTINIANS — Palestinian medics said a man died early Saturday after he was critically wounded by Israeli gunfire during a military raid in the occupied West Bank nearly two weeks earlier. SENT: 270 words, photo.
——————————————
ENTERTAINMENT
—————————————-
AFI-AWARDS — In a ballroom filled with stars like Viola Davis, Ben Stiller and Sigourney Weaver, the American Film Institute Awards paid tribute to Lisa Marie Presley. SENT: 420 words, photos.
—————————
SPORTS
—————————
FBN–ALL-PRO TEAM — Travis Kelce and Justin Jefferson are unanimous choices for The Associated Press NFL All-Pro Team, and Sauce Gardner is the first rookie cornerback selected in 41 years. SENT: 730 words, photos, video.
BBO—ARBITRTION RDP — Juan Soto, Pete Alonso and Vladimir Guerrero Jr. reached big-money agreements on one-year contracts that avoided salary arbitration as the exchange of proposed hearing figures between Major League Baseball and the players' association stretched late into the night. SENT: 560 words, photos.
TEN–AUSTRALIAN OPEN-NADAL AND DJOKOVIC — For all they have in common, Rafael Nadal and Novak Djokovic could hardly be entering this Australian Open under more contrasting circumstances. UPCOMING 600 words, photos by 4 a.m. EST.
———————————————
HOW TO REACH US
———————————————
At the Nerve Center, Vincent K. Willis can be reached at 800-845-8450 (ext. 1600). For photos, (ext. 1900). For graphics and interactives, ext. 7636. Expanded AP content can be obtained from http://newsroom.ap.org. For access to AP Newsroom and other technical issues, contact apcustomersupport@ap.org or call 844-777-2006.